Linking up Elle Noel, Sarah and Kassie to expose introduce my love to the blog-universe for the Meet My Other Half Link-Up!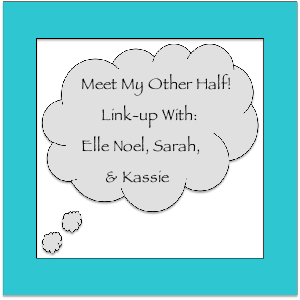 I don't mind it, but I also don't read much if it. She does giddily update me when she reaches a new amount of views or more followers.
2. Do you know what IG stands for? How about OOTD?
I have absolutely no idea. (
He also didn't even bother to ask, so he will forever be left in the dark. King of short answers.)
3. How long would you say you've been together?
Two years, but we've been friends for 10.
4. Does her working out and eating healthy make you want to join in?
Surprisingly
yes. I started eating better and that running thing. We were hoping to run a 5k together this summer.
5. Is there anything you can do to inspire him to workout/eat healthier?
**After rereading this question I realized I asked therefore he answered it wrong so I'm going to have to update when he's awake.**
That it makes her feel good.
7. What do you like least?
At the beginning she was really strict. Constantly working out, never eating bread. But she's gotten better. We can actually go out to eat now. Like this. (This took place while we were meeting for our weekly coffee date, I was drinking a hot chocolate and we shared an Easter cupcake).
8. How long did it take for you to agree to answer these questions?