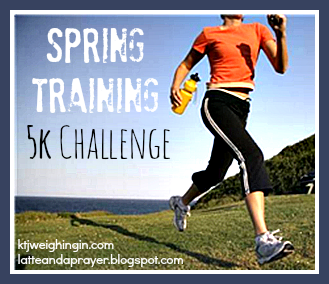 Linking up with KTJ and Kim for their Spring Training 5K challenge! I just started Week 2 Day 1 of C25K today! I wanted to keep it Monday, Wednesday, Friday but what ever bug I had last week came back with a vengeance so I called into work and slept ALL DAY yesterday. But I woke up feeling refreshed and ready so start kicking some ass again. I even ate breakfast at a normal time (mine are usually more like brunch) so that I could workout in the morning.
Let me tell you, I don't know if it was the adding extra time on C25K or the fact that I'm getting over this bug, but I had a hard time today. It wasn't that I was out of breath or anything, it was the fact that I was sweating SO MUCH and becoming physically exhausted. Maybe it was too early to jump back on the treadmill after being ill, but I felt like I was going to lose motivation if I didn't do SOMETHING. But I did it. Its done. I'll be doing it for the next four days too. My goal is to repeat a day of week one tomorrow because I plan on having a very unhealthy weekend.
My friend is coming into town for her birthday, which of on St. Pat's day, which is my boyfriends favorite holiday, and also a big drinking day. I will be weighing in on Saturday then immediately going out to breakfast, then out to start drinking... all day, and probably eating from the street vendors. But on the plus side we are walking all day (its basically a huge block party) and possibly throwing up. I finally get to wear my green jeans!
So to prepare I plan on working extra super hard (enthusiastic much?). I downloaded an app to remind me when to drink water. It is annoyingly helpful. That, plus my extra day of cardio and eating as cleanly and routinely as possible should set me up for a decent weigh in!