I had a rough start to the week (started it off with a significant gain). But I eventually recovered. I was actually so excited for this link-up when I left work last night. I couldn't wait to share. Which gets me so excited to read everyone else's accomplishments for the week!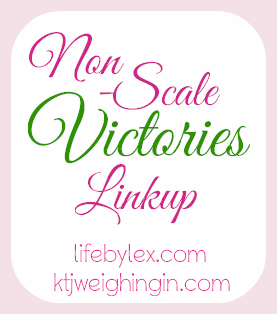 I worked out before work yesterday. No big deal, a little light jogging/ mostly walking because I suck at pushing myself, and some squats.
Worked as normal.
But then some of the girls asked me to go to the gym with them after work.. at 11 pm, after working all evening. Bah. But I did it. Figured I'd stay 45 minutes then leave. Best idea ever.
I ran my first

15 minute mile

in, well, probably forever. I couldn't do it in high school. I really haven't tried all the much since.
I get that this isn't "good" from a runner's perspective. But usually when I work out at home it takes me 20-25 minutes to do a mile, because I spend about 1 minute running, then switch to walking. Then maybe 15 minutes in I'll give running another shot, for thirty seconds.
I don't know if it was being awake from working or the fact that I was with other people and I wanted to push my self.. but I ran.
And I couldn't be happier.
How was your week?!
Head on over to KTJ Weighing In and Life By Lex and join the link-up.
Can't wait to read everyone's victories!